Il Terzo Cerchio Business Card Design
Italian Restaurant business cards design

Client: Il Terzo Cerchio
Industry: Restaurants, Café, Bars
Country: Hungary
Project details
Italian restaurant Il Terzo Cerchio (The Third Circle, a reference to Dante's "Inferno", where sinners were punished for their appetites) is a bit more sophisticated than your typical Italian eatery, the atmosphere is homey and inviting and dishes are fantastic!
Artamax provided business cards and marketing materials for the restaurant.
Business card design for the restaurant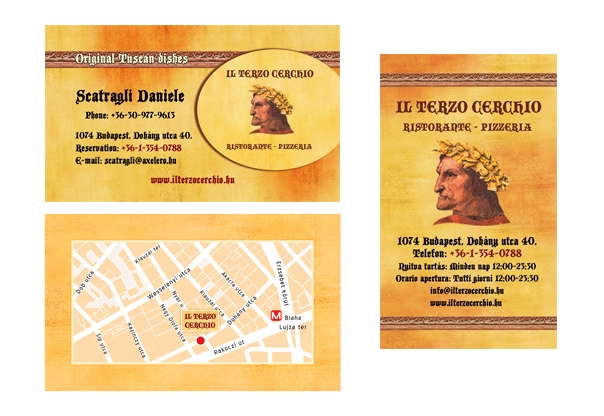 Solutions provided
Project team
Art-Director: Timár András
Design: Kassai Balázs, Timár András
Management: Timár András
Team:
Other works for this Client
Get in touch!
Clients in Hungary (Hungarian)

+36 30 495-6522
Contact us
Find the project: