Hummus Bar Budapest business card design
Business Card design for Hummus Bar Budapest

Client: Hummus Bar Budapest
Industry: Restaurants, Café, Bars
Country: Hungary
Project details
The first Hummus Bar Budapest opened 10 years ago as a small canteen, which introduced the Middle Eastern cuisine to the Hungarian guests. Because of the popularity of the venue, today there are 10 restaurants that are under Hummus Bar Budapest's belt and it still continues to grow.
Two years in a row, the Hummus Bar Budapest was awarded for the 'best exotic cheap eats' in the Time Out magazine.
The Artamax Studio was asked to create a brand new image for the restaurant chain.
The following tasks were given to be completed for the rebranding:
-Building a new image
- Creating a concept for the physiognomy of the series of photos
- Designing menus and communication materials
- Creating business cards
- The formation of the restaurants' interior visual world
The restaurant plans to introduce the Hummus Bar concept in Europe's major cities.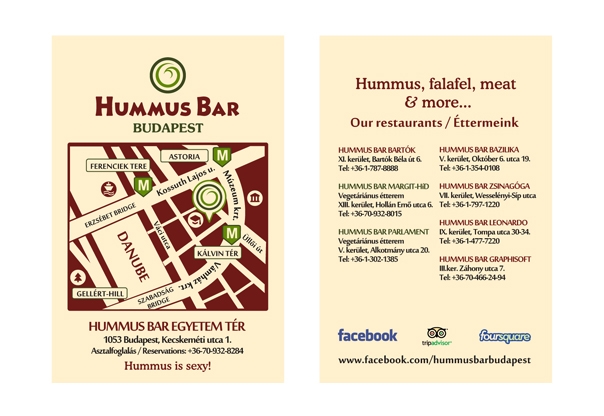 Solutions provided
Project team
Art-Director: Timár András, Uri Gottlibovich
Design: Timár András
Management: Timár András
Team: Marton Szilvia, Timár András, Uri Gottlibovich, Vadim Ostapenko
Other works for this Client
Get in touch!
Clients in Hungary (Hungarian)

+36 30 495-6522
Contact us
Find the project: