Trófea Grill Website Mobile Version
Mobile version for Trofea Grill restaurant chain

Client: Trófea Grill Étterem
Industry: Restaurants, Café, Bars
Country: Hungary
Project details
Artamax provides IT solutions for Trófea Grill Restaurant chain since 2007.
Recently we have launched mobile version of the website as well.
The main purpose of the site is to serve more efficiently users of mobile devices driven by Android, MacOs and Windows Mobile. To make a navigation even easier we have created a set of nice icons.
Main page of all restaurants in the chain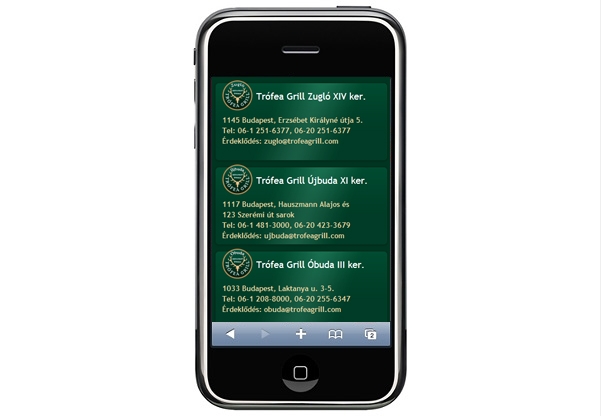 Inside page with unique icons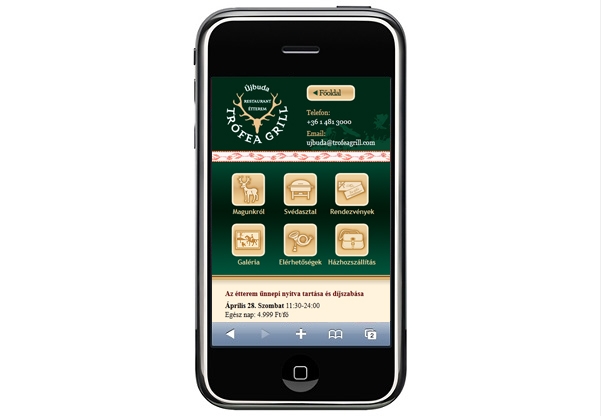 Gallery presentation on mobile device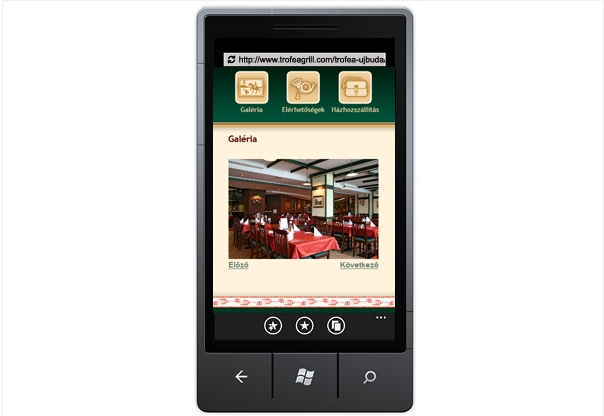 Solutions provided
Project team
Art-Director: Vadim Ostapenko
Design: Timár András, Vadim Ostapenko
Management: Timár András
Team: Dobos Levente, Timár András, Vadim Ostapenko
Other works for this Client
Get in touch!
Project managers direct phones:
+36-30-231-1512 (English, for international clients)
+36-30-495-6522 (for Hungarian clients)
1137 Budapest, Jászai Mari tér 4/b
Office phone / Fax: +36 1 612-14-27
Contact us
Get the project you need: