Thonett Palace Invitation Card
Invitation card design for Thonett events hall

Client: Thonett Palace
Industry: Food, Wine
Country: Hungary
Project details
Artamax designed this invitation card for Thonett Palota -- one of the most representative events hall and party places in Budapest. Well-decorated antique and luxurious place provides spacious halls for private and corporate parties. Thonett delivers top level services for very high-profile guests.
Invitation card design for Budapest most exclusive events hall Thonett Palace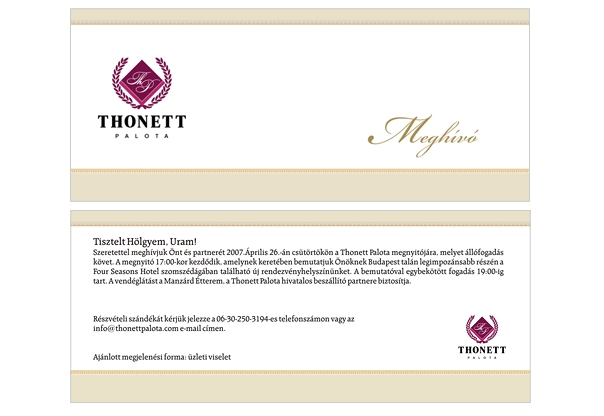 Solutions provided
Project team
Art-Director: Vadim Ostapenko
Design: Timár András
Management: Nánássy Zsolt, Timár András
Team: Timár András
Other works for this Client


Get in touch!
Project managers direct phones:
+36-30-231-1512 (English, for international clients)
+36-30-495-6522 (for Hungarian clients)
1137 Budapest, Jászai Mari tér 4/b
Office phone / Fax: +36 1 612-14-27
Contact us
Get the project you need: