Konyhaművészet Web Portal Design
The cuisine culinary and lifestyle magazine.

Client: Budapest Week Publishing
Industry: Entertainment, Music, Media
Country: Hungary
Project details
The Konyhaművészet (Art of Cooking) magazine is Hungary's leading culinary magazine (founded 1990). Since 2007 magazine went online preserving those values that are already represented in the print version.

Magazine is focusing on fine cuisine, world of gastronomy, fine wines and a lifestyle.
The Art of Cooking magazine readers are invited to enjoy the presentation of high quality products trough artistic articles, share knowledge, browser recipes directory and get access to a wide range of events, restaurants and food-related companies.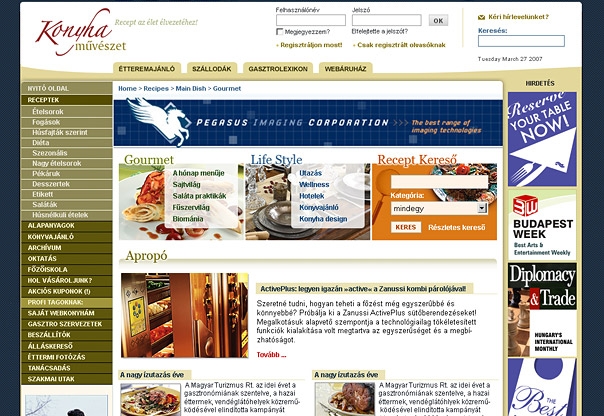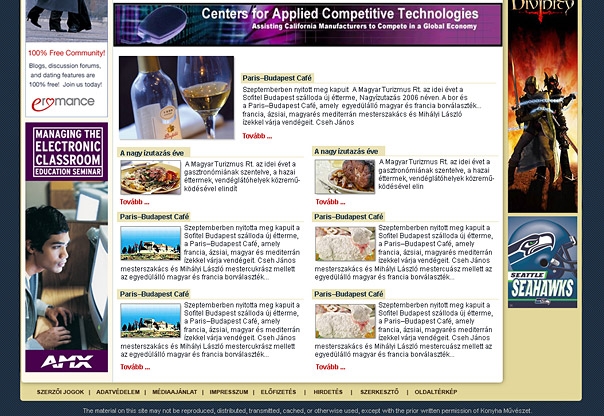 Solutions provided
Project team
Art-Director: Vadim Ostapenko
Design: Vadim Ostapenko
Management: Peter Freed
Team: Timár András
Other works for this Client


Get in touch!
Project managers direct phones:
+36-30-231-1512 (English, for international clients)
+36-30-495-6522 (for Hungarian clients)
1137 Budapest, Jászai Mari tér 4/b
Office phone / Fax: +36 1 612-14-27
Contact us
Get the project you need: