HBLF Web Portal Design & Development
Webportal Development and design for a nonprofit association
Client: Hungarian Business Leaders Forum
Industry: NGO, Non-Profit, Association
Country: Hungary
Project details
The Hungarian Business Leaders Forum (HBLF) is a nonprofit association and representative body of local business executives, local representatives of international joint ventures and other influential business people in Hungary and is committed to promote responsible business practices that benefit business and society, economic and environmentally sustainable development in Hungary.
By the beginning of the nineties, environmental and social issues had become more fundamental problems within a more open and competitive Hungarian economy. The Hungarian Business Leaders Forum, established in 1992 by the personal initiative of Prince Charles, aims to respond to those issues as a partner organisation of The Prince of Wales International Business Leaders Forum.
Today HBLF has close to 100 members; local and international companies, small and medium size enterprises, nonprofit organisations and individuals.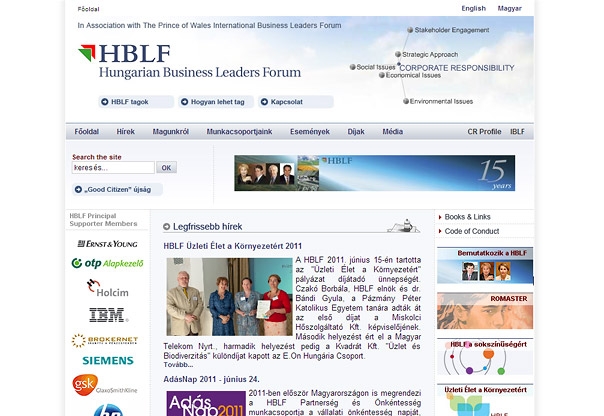 Project team
Art-Director: Vadim Ostapenko
Design: Vadim Ostapenko
Management: Adriány Kincső
Other works for this Client

Get in touch!
Project managers direct phones:
+36-30-231-1512 (English, for international clients)
+36-30-495-6522 (for Hungarian clients)
1137 Budapest, Jászai Mari tér 4/b
Office phone / Fax: +36 1 612-14-27
Contact us
Get the project you need: