Winkler House Menu Design
Guesthouse & Restaurant Menu Design

Client: Winkler House Pansion and Restaurant
Industry: Restaurants, Café, Bars
Country: Hungary
Project details
Winkler Guesthouse & Restaurant located at Vásárosnamény. This town also known as the "Bereg Gate", a small town in Szabolcs-Szatmár-Bereg county, in the Northern Great Plain region of eastern Hungary, by the junction of three rivers the Tisza, the Szamos and the Karaszna.
Our task was to design and produce a modern Hungarian menu. The black leatherette cover with gold embroidered logo combines the traditional Hungarian embroidery with a contrast of black modern cover.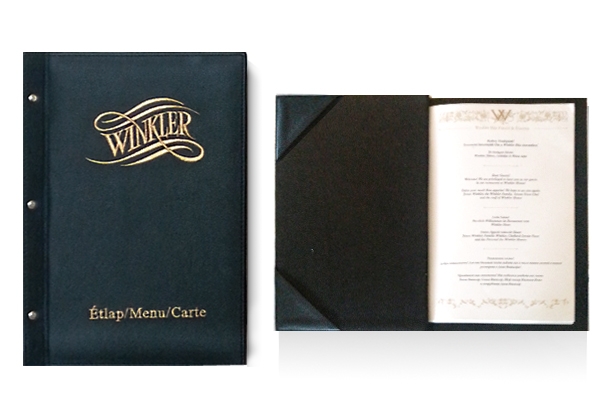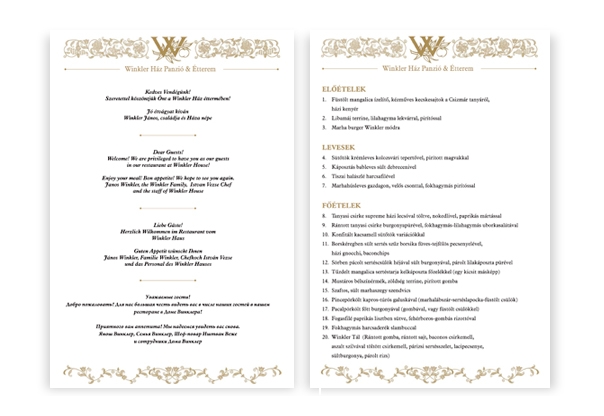 Solutions provided
Project team
Art-Director: Timár András
Design: Timár András, Vadim Ostapenko
Management: Timár András
Team:
Other works for this Client
Get in touch!
Project managers direct phones:
+36-30-231-1512 (English, for international clients)
+36-30-495-6522 (for Hungarian clients)
1137 Budapest, Jászai Mari tér 4/b
Office phone / Fax: +36 1 612-14-27
Contact us
Get the project you need: