Wall Street Budapest Restaurant Website Design
Professional Unique Restaurant Website Design

Client: Wall Street Budapest Restaurant
Industry: Restaurants, Café, Bars
Country: Hungary
Project details
Among Budapest historical buildings, there is usually a typical local restaurant mellowed with age where the past and present are blended together. In the very heart of this city it is Wall Street Budapest, where the elegance and fine dining style of the past 100 years become amalgamated with a traditional but modern cuisine.
Artamax designed and developer unique website for the restaurant.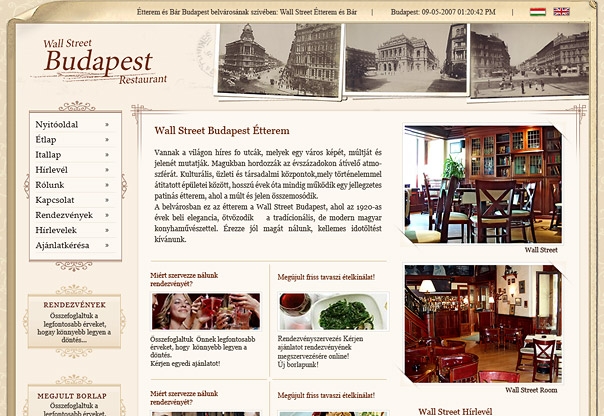 Project team
Art-Director: Vadim Ostapenko
Design: Szép István, Vadim Ostapenko
Management: Timár András
Team: Albert Szwedo, Szép István, Timár András, Vadim Ostapenko
Other works for this Client

Get in touch!
Clients in Hungary (Hungarian)

+36 30 495-6522
Contact us
Find the project: