Karma Cafe & Restaurant Website
Professional Custom Restaurant Website Design

Client: Karma Cafe & Restaurant
Industry: Restaurants, Café, Bars
Country: Hungary
Project details
Karma Cafe & Restaurant is a nice restaurant located downtown Budapest. Every evening after 6, the mystic oriental interior is filled with elegant candlelight, which enhances the venues' real allure. Apart from the traditional Indian dishes, all the various and exquisite tastes of modern cuisine can be found on the menu card, accompanied with more than fifty different kinds of coffee and tea specialities.
Visit new bilingual website designed and launched by Artamax to get a feeling of the eastern silence and tranquility inside the lounge.
Besides providing online services we are also delivering restaurant menus, marketing and promotion materials, print advertising and illustrations since the restaurant established in 2005.
Karma Cafe & Restaurant main page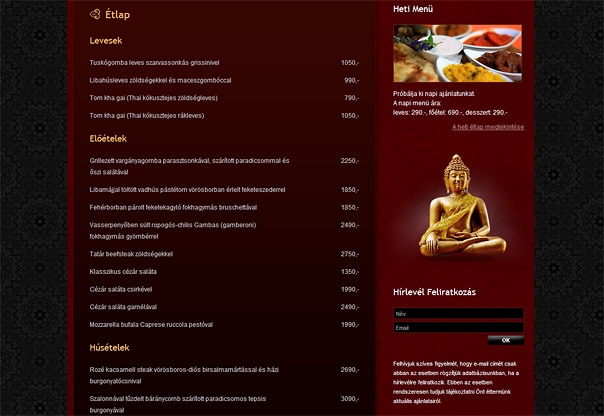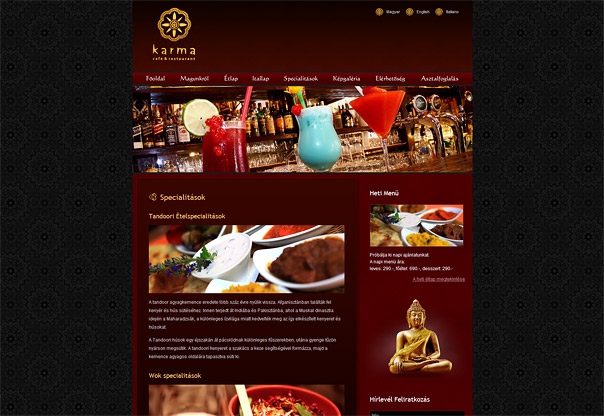 Automatically appearing banner on page load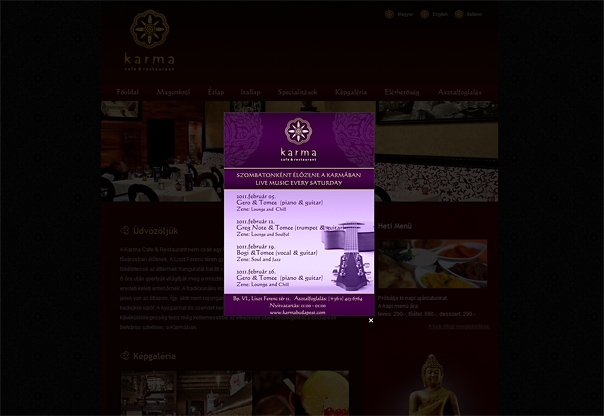 Custom Buddha illustration on the website animated by javascript
Karma Cafe & Restaurant logó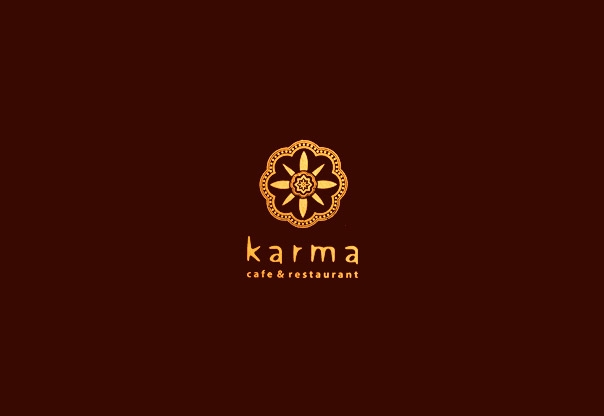 Solutions provided
Advertising, Content Management System (CMS), Custom Illustrations, Graphic Design, Identity Design, Marketing Solutions, Image Development, Restaurant Menu Design, Search Engine Optimization (SEO), Search Engines Marketing (SEM), Website Design, Website Maintenance
Project team
Art-Director: Timár András, Vadim Ostapenko
Design: Kassai Balázs, Timár András
Management: Timár András
Team: Albert Szwedo, Dobos Levente, Kassai Balázs, Timár András, Vadim Ostapenko
Other works for this Client
Get in touch!
Clients in Hungary (Hungarian)

+36 30 495-6522
Contact us
Find the project: