First TV Web Portal
Free online movie portal design and development

Client: First TV
Industry: Entertainment, Music, Media
Country: Italy
Project details
Under the patronage of GTI Srl Gruppo Televisivo Italiano new media Web 2.0 project First TV was established to provide web audience with unique experience: possibility to watch favorite movies online completely free of charge.
Grouped in several channels by genre full-length movies were streaming from robust servers provided by Westream.eu through customized web player.
All channels are free and transmit films "On Demand" in full screen without costs or subscriptions to users.
Artamax designed the web portal and developed administration back-end, management tools and movie demonstration framework.
Online streaming media website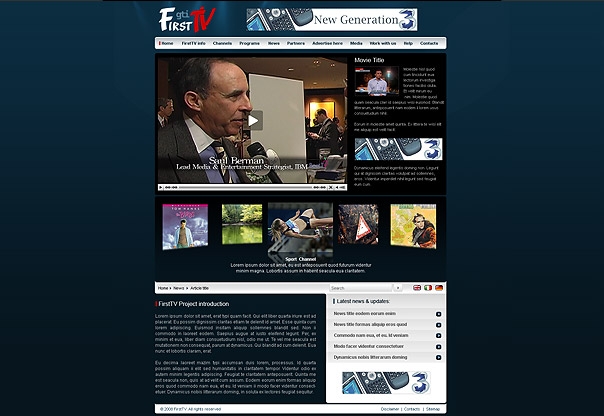 Project team
Art-Director: Vadim Ostapenko
Design: Vadim Ostapenko
Management: Enrico Torrini
Team: Albert Szwedo, Szép István, Timár András, Vadim Ostapenko
Other works for this Client
Get in touch!
Project managers direct phones:
+36-30-231-1512 (English, for international clients)
+36-30-495-6522 (for Hungarian clients)
1137 Budapest, Jászai Mari tér 4/b
Office phone / Fax: +36 1 612-14-27
Contact us
Get the project you need: