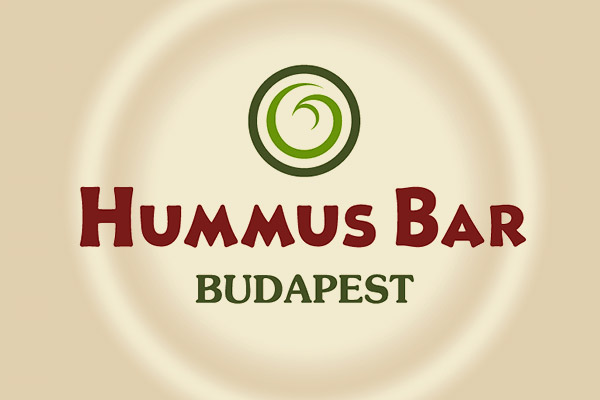 Client:
The first Hummus Bar Budapest opened 10 years ago as a small canteen, which introduced the Middle Eastern cuisine to the Hungarian guests. Because of the popularity of the venue, today there are 10 restaurants united under the brand of Hummus Bar.
Hummus Bar restaurants chain is still continues to grow being recognized as a "best exotic cheap eats" in Budapest, Hungary. To reflect this need for expansion and evolvement, a new visual and communication identity needed to be created and introduced throughout all of the restaurant locations.
"We are really excited to be working with a Hummus Bar. It will be fun and challenging to expand the mutual collaboration to the new horizons based on a strong foundation currently laid down," said Vadim Ostapenko, an art director of Artamax.com.
Delivered:
We at Artamax Solutions are proud to present a short showcase of the new brand identity developed for Hummus Bar Budapest and supported with a brand book, a "Brand Identity Guidelines".
New identity includes a refreshed corporate logo, more vibrant corporate color palette, unified communication platform, re-designed web site, branded image schemes and type sets combination, new advertising guidelines and much much more.
Hummus Bar Brand Identity Guidelines
Hummus Bar Logo Design
The corporate logo has been modernized to reflect new visual identity of the company, yet maintains the integrity of key elements within its original logo such as the curved symbol, which is illustrative of the hummus creation process from which the Company's name is derived. The new logo is presenting a new color palette and also adds new proportions and structure to the logo composition.

Brand Book
A few pages from the 30-page Hummus Bar "User manual and identity guidelines".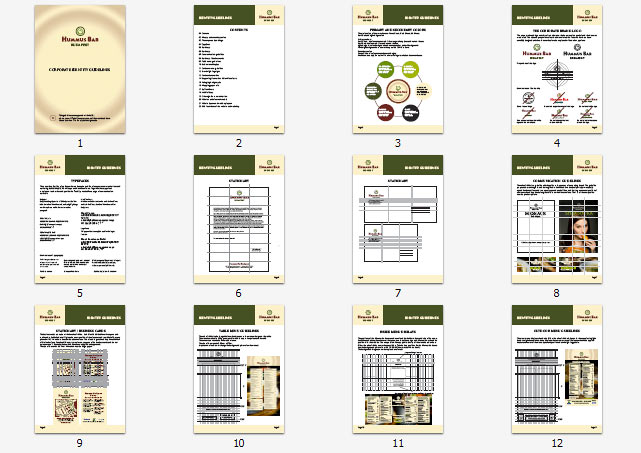 Hummus Bar Colors
Branded color palette.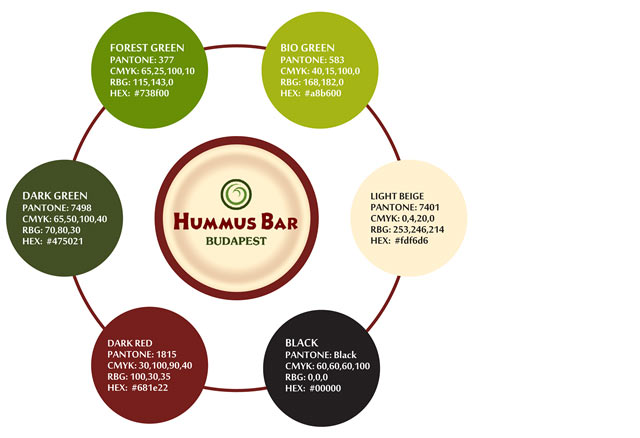 Professional Photoshoot
We have put together a team of professional models, photographers and set and make-up specialists to produce a set of images to be used throughout the new communication identity.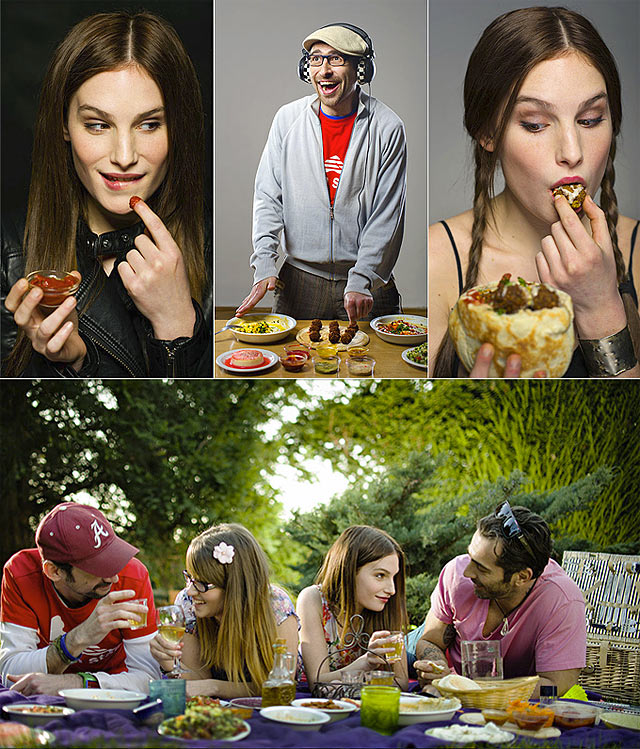 Food Photography
We believe: it is absolutely essential for every restaurant to have professional food images.
Graphic Design
We have designed dozens of graphic elements applied on various print materials, wall decorations, interior elements to maintain the consistent look of the new identity in all venues.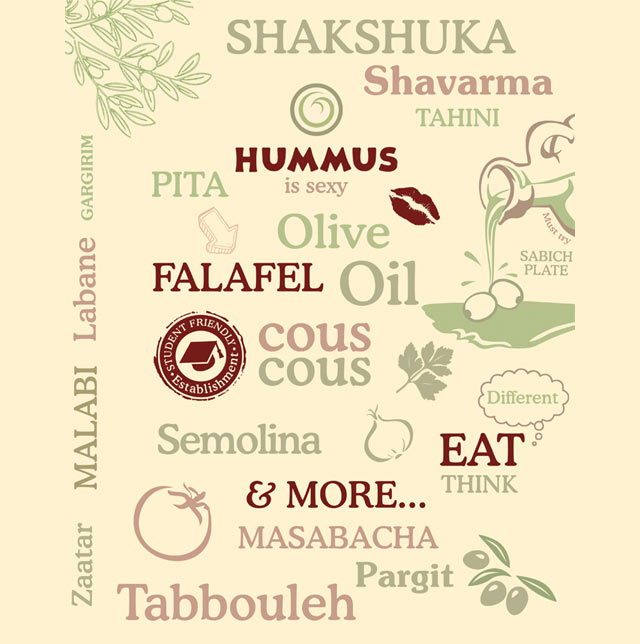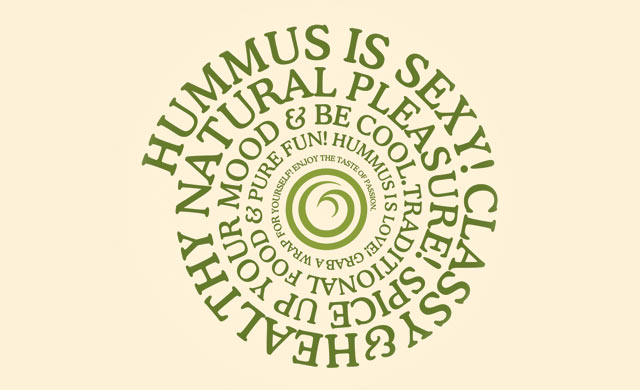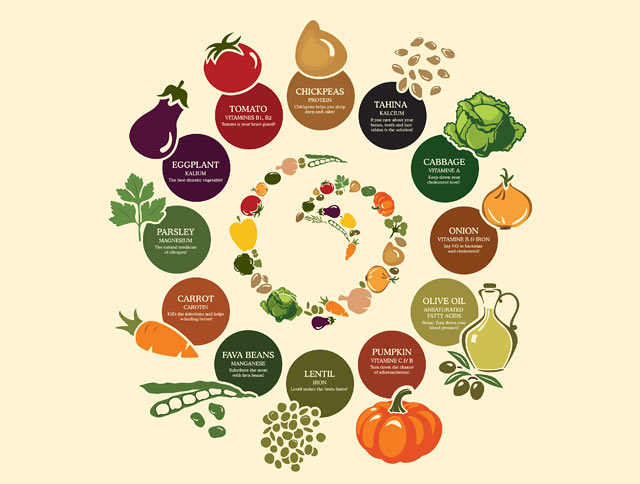 Online Communications: Website & Webshop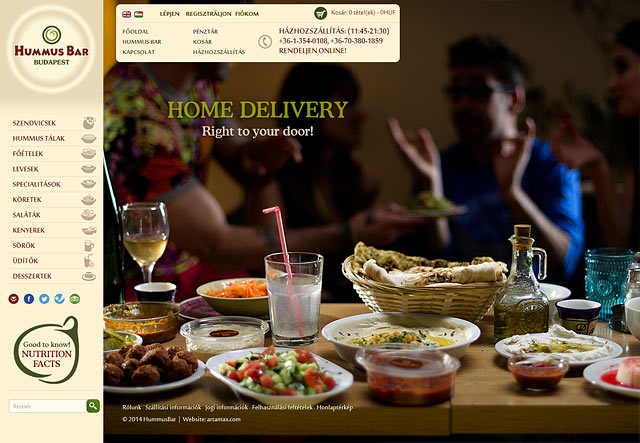 Restaurant Posters
Based on our own photo stock we have produced various posters.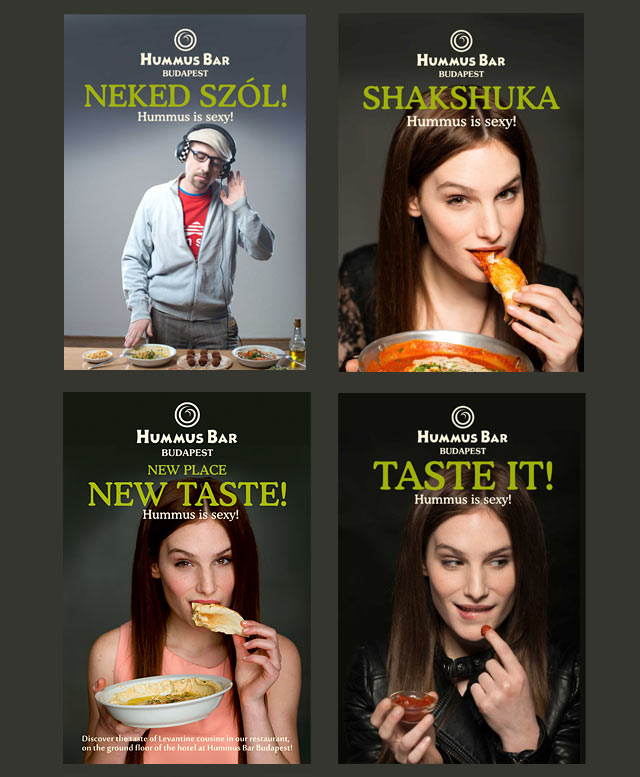 Posters as a part of the interior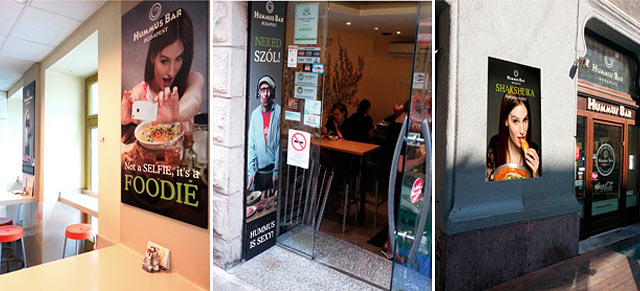 Menus For Restaurants
We have designed, printed and delivered a unique set of menus for all restaurants.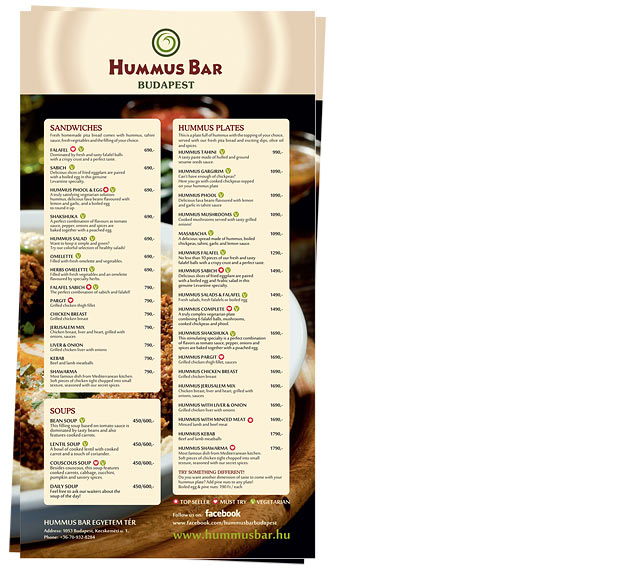 Restaurant Cards
A set of cards for each restaurant, vegetarian and traditional.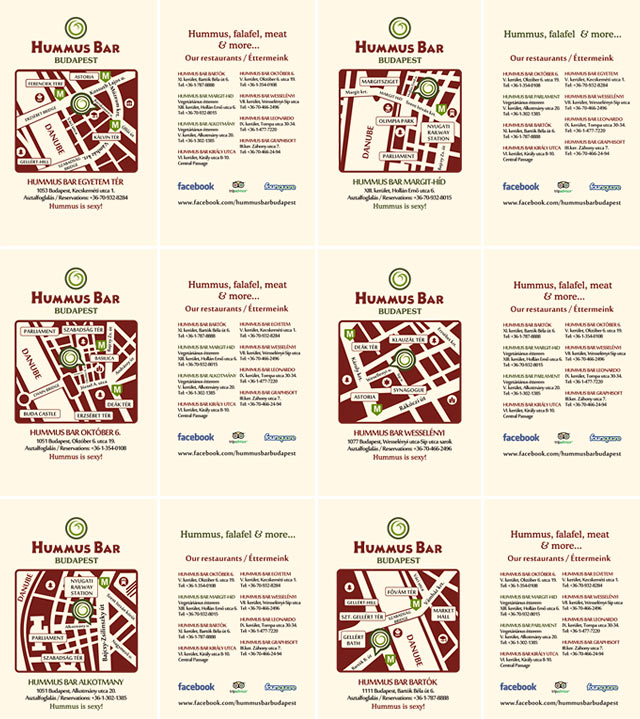 Exterior Design
Outlook of Hummus Bar restaurants was designed, produced and installed by Artamax, including lighboxes, boards, outdoor signs, and more!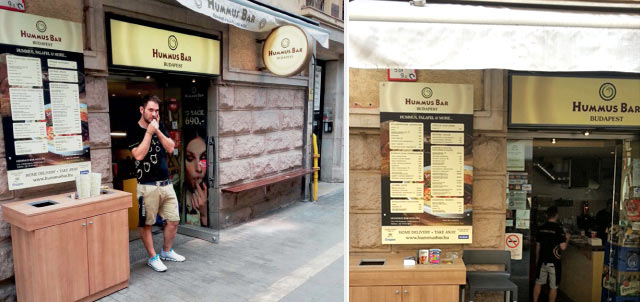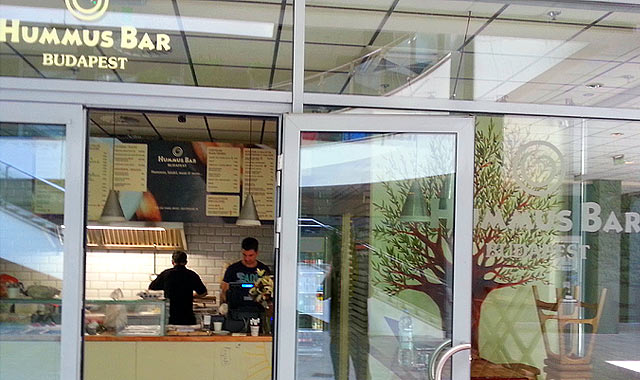 Outside board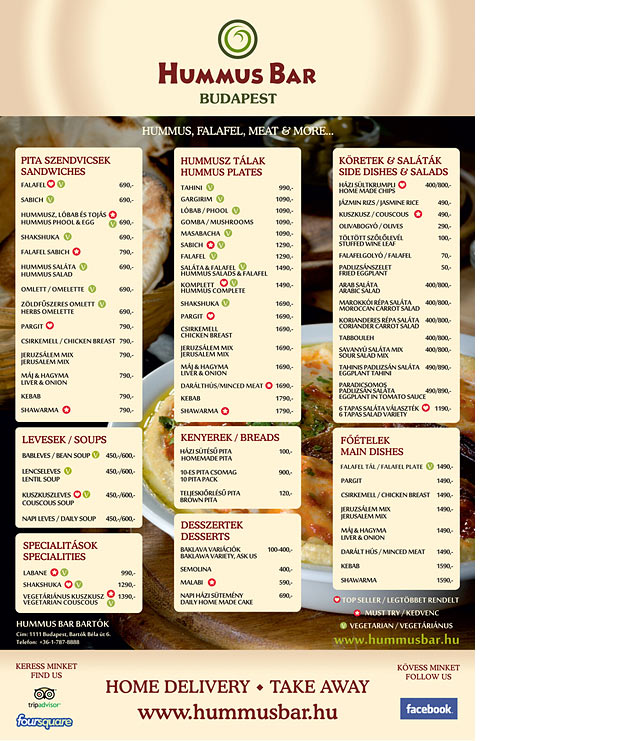 Interior Design
Menu displays above the bar pult.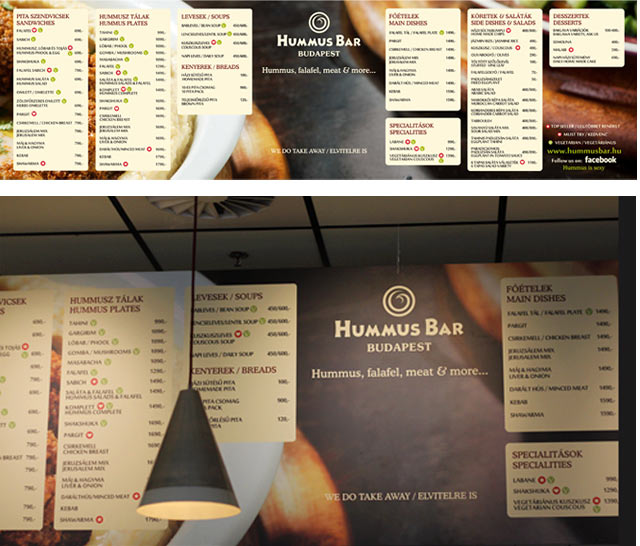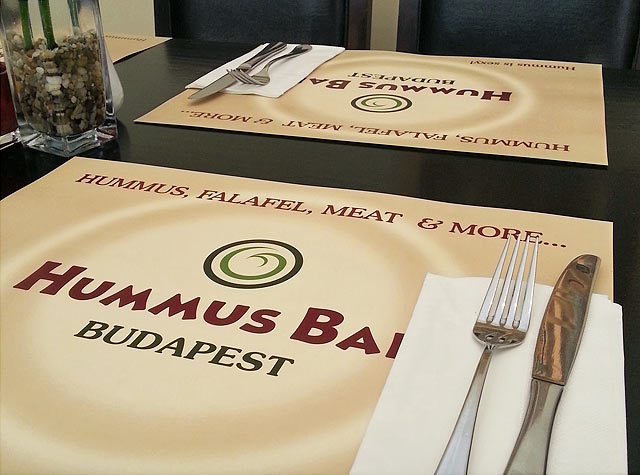 Mobile Websites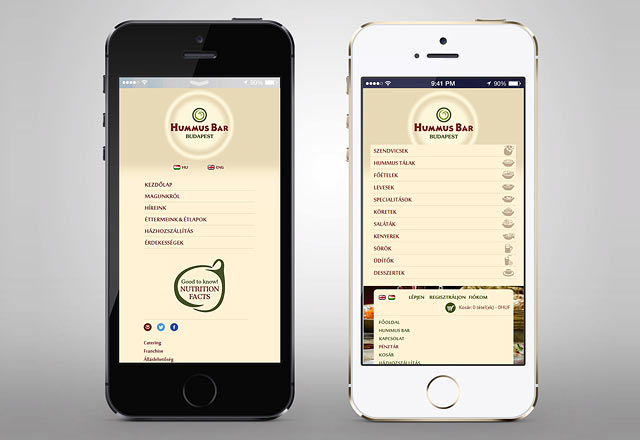 ..and there is much much more we have done for Hummus Bar!